Group study room technology
About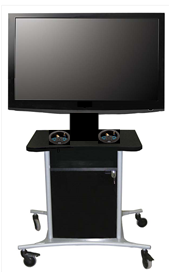 In order to facilitate collaboration in the information age, a mobile cart solution is installed in 11 of the 14 group study rooms in the Grey Nuns building.
The following study rooms have the mobile carts:
B.104, B.106, B.108, B.109, B.110, B.111, B.121, B.122, B.123, B.124, B.125
These carts feature easy-to-use technology allowing up to four users to connect their devices to the screen in the room. With this technology you can practice presentations, work together comfortably on digital media, and even web conference with offsite participants.
Book a study room

How to use the 6-button panel
On/off button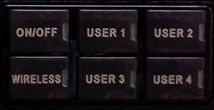 The On/Off button (power button) can be used to power the cart on and off. If the cart was off please allow up to 30 seconds for all the components to boot up properly. The cart will automatically power down after 20 minutes of inactivity.
User 1, 2, 3, and 4 buttons
The cables to connect wired devices can be found in the two round cubby holes embedded in the top of the mobile cart. Up to 4 separate wired sources can be connected at the same time (HDMI with DisplayPort and MiniDisplay adapters). Each cable is long enough to comfortably reach any of the participants sitting at the nearby work table.
Any user with a connected device can take control of the screen by selecting the button on the panel that corresponds to the label on the cable their device is connected with.
In the event of a faulty connection the corresponding LED light will start flashing.
Wireless button
Users must use the Concordia wireless network in order to connect to the AirMedia appliance in the mobile cart. Further instructions on how to connect are provided on the splash screen displayed when the Wireless button is pressed on the button panel.
Users must enter the URL address and the unique session code in order to securely connect. The number of wireless connections is only limited by the availability of bandwidth.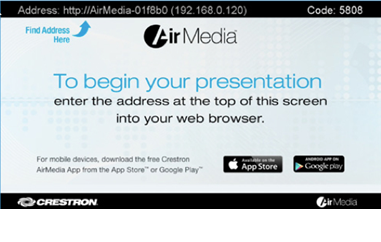 USB webcam
A wide angle USB webcam has been mounted above the screen to allow users to easily web conference with offsite participants using whatever software is on their device (Skype, Lync, Google Hangouts, etc…). The USB cable for the Webcam can be found in the center cubby hole and is long enough to comfortably reach any of the participants sitting at the nearby work table. Users should make sure that they select the appropriate source in the software they are using.

Need help?
Please see the Information Desk with any questions or comments.