Discovery search FAQs
Do I have to use the limiting options, or facets, on the left?
Using the facets is not required, but can be very helpful! For example, after you do your search, you can use the Library Catalogue facet to limit to materials physically located in the library.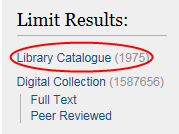 If you want to limit your keyword search to only articles in academic journals, try using the Academic Journals in the Format list: