University Librarian
A message from Dr. Beaudry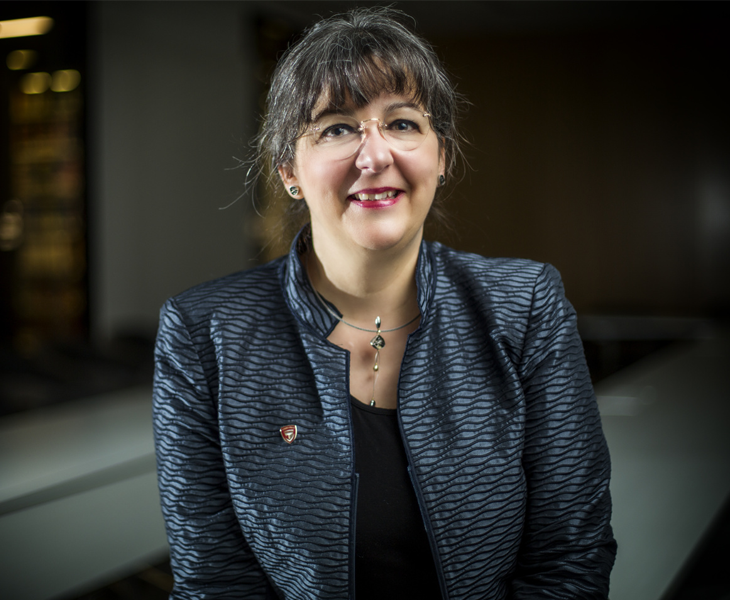 Guylaine Beaudry, Vice-Provost, Digital Strategy & University Librarian
© Concordia University, photo by Marc Bourcier
Dear Students,
I would like to extend a very warm welcome to you all – both new and returning students ― to the Concordia Library. Concordia Library consists of the Webster and Vanier libraries and the Grey Nuns reading room. 
The Library is an important partner in your academic success.  We have a team of dedicated librarians and staff ready to assist you with a variety of services, such as subject-specific research across our comprehensive print and digital collections, the use of our interlibrary loans services, or simply borrowing a laptop or tablet.  Please feel free to ask. We are here to assist you!
During the last academic year (2016-17), our Teaching & Learning Librarian redesigned and launched a set of 5 modular library workshops designed specifically for first-year students.  In addition to introducing you to our many services, these workshops will explain how to develop effective research questions, locate articles and books and how to best take notes when researching for a term paper. These workshops can be taken together, or separately. For more information:  http://library.concordia.ca/help/workshops/index.php.
We are eagerly looking forward to the opening of part of the third floor and the fourth floor on September 12. This means that new and returning students will be able to enjoy the full benefits of a renovated Webster Library.  We plan to celebrate the completion of the Webster Transformation in style in January 2018.  Stay tuned, you'll be invited!
Finally, I want to express my appreciation and gratitude to the Library Services Fund Committee (LSFC) and its student representatives for their ongoing support. Last year, the LSFC helped fund, among other things, 24-hour access to the Vanier Library and Webster Library (during the academic year), the laptop and tablet loan program and the acquisition of textbooks and other course materials for both the Webster and Vanier Library reserve rooms.
As always, I welcome your thoughts on how Concordia Library can continue to address and best serve your academic needs. Please do not hesitate to contact me at guylaine.beaudry@concordia.ca.
I wish you a most productive fall 2017 term!
Sincerely,
Guylaine Beaudry, PhD
Vice-Provost, Digital Strategy & University Librarian
August 24, 2017