Discovery search FAQs
What is the discovery search?
The discovery search is a new search tool which allows you to search both the library's physical and digital collection at the same time and receive results in a single list. The discovery search is best described as a keyword search which will expose you to a large variety of library print and subscription materials related to your topic. Search results include relevant materials found in the library catalogue (CLUES), plus a large proportion of our subscription database articles in full-text, ebooks, images, and more!

How do I use the discovery search?
Follow the link to http://encore.concordia.ca and type your keywords into the search box and click the go button. Your results will include not only physical items in the library — such as books and print journals — but will also include results for articles and ebooks in our digital collection which can be accessed immediately.

Do I have to use the limiting options, or facets, on the left?
Using the facets is not required, but can be very helpful! For example, after you do your search, you can use the Library Catalogue facet to limit to materials physically located in the library.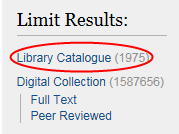 If you want to limit your keyword search to only articles in academic journals, try using the Academic Journals in the Format list: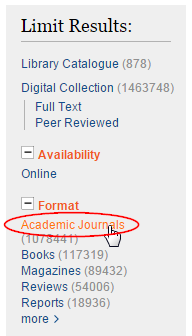 How do I access the full text?
View full-text by clicking on the PDF, Full Text, and Find it @ Concordia buttons that appear: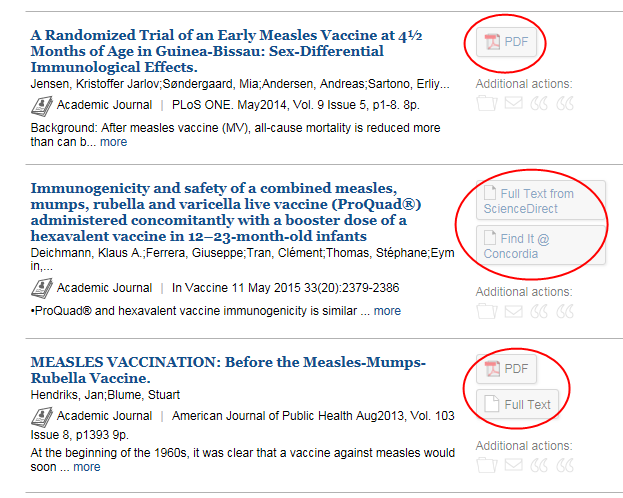 What if there is no PDF or Full Text button on the right?
Try clicking on title of the article in your results list. This will bring you to a more complete description of the item. Links should appear on the left. You may need to use the Find It @ Concordia button or other button on this page to see if full-text is available.


How do I find books and other items in the library?
Library material will display a location and a call number where the item is shelved. If the material is request-able, a "REQUEST IT" button will display. Use it to place your request!


I have a digital object identifier (DOI). Can I use it to search?
Yes. A digital object identifier (DOI) is an alphanumeric string assigned by a publisher when an article is made available online. Thousands of DOIs are indexed in the discovery search, and more are being added daily.
Your DOI may find the full-text/PDF right away: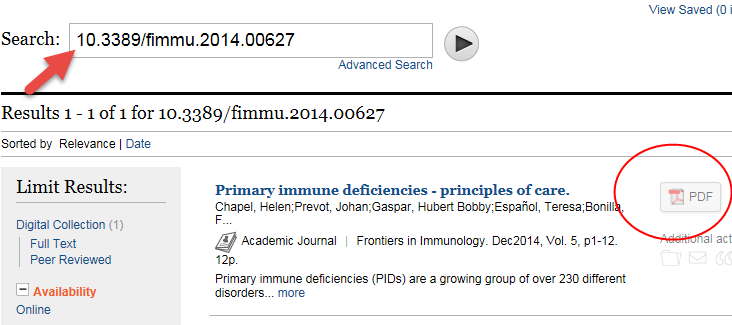 Or it may return a "Find It @ Concordia" button for you to use: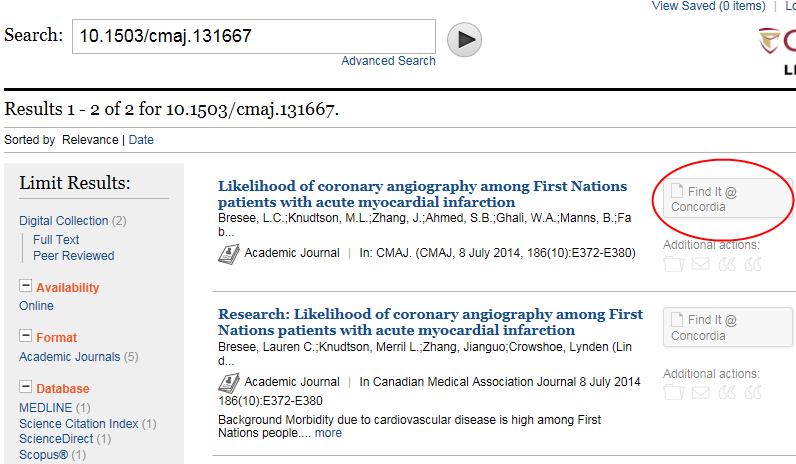 Can I search by ISBN and ISSN?
Common identifiers such as ISBN and ISSN and can also be typed into the search box.
ISBNs can be entered with or without dashes, but removing ISBN dashes is sometimes more precise: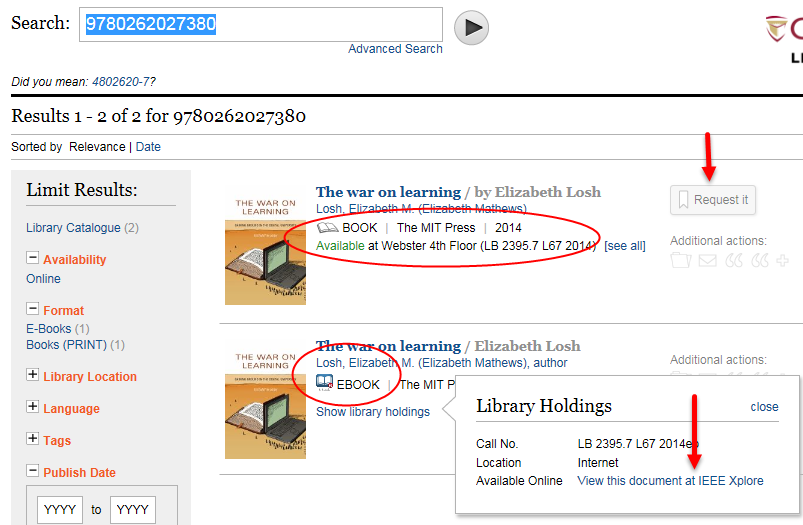 ISSNs can also be searched with or without dashes, but may be inconsistent. Add a filter such as "Journals (PRINT)" or "E-Journals" to narrow result.

Can I search by call number?
Yes. If you have a call number, enter it in the search box. If you only know the beginning of the call number, try entering it. You may also find using the "Library Catalogue" or "Library Location" filters helpful for more exactitude.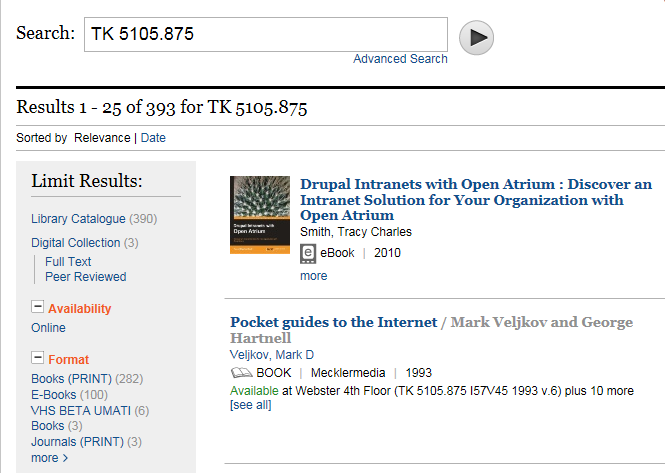 Can I search by course code?
Find textbooks on reserve by entering the course code (e.g., phil 260) -- into the discovery search box, then view the "Course Code" facet in the left-hand column. Sometimes it can help to add the term 'textbooks' to the search. Click on the course code to view results.
An icon resembling a chalk board

indicates a course textbook on reserve.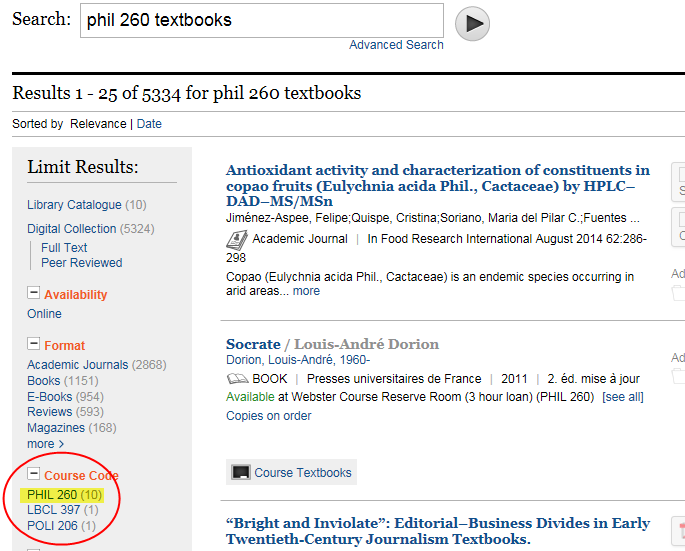 Where did MyCLUES go?
MyCLUES has been renamed to My Library Account. It is directly accessible through both CLUES and the discovery search. My Library Account has been updated and will look and feel similar the discovery search.

Is my library account affected?
When you login using the new discovery search, you will see the new look and feel. When you use the Classic Catalogue (CLUES), you may see the older view.
Either way, your My Library Account information – holds, checkouts, fines, etc. – remains the same. But alerts are no longer available.
Faculty, staff, and external users who wish to change the email address associated with their library account should contact the library at lib-Circulation@concordia.ca.