How to install and use the LibX Concordia browser extension
What is LibX Concordia and what can it do?
LibX Concordia is a browser extension for Firefox and Chrome that keeps Concordia Libraries' resources a few keystrokes away no matter where you are wandering on the web. With LibX installed, you can use features such as your mouse's right-click button and a toolbar search box to quickly or automatically do things like:
launch a Google Scholar search for an article referenced in a PDF document or web page and directly connect to it if Concordia subscribes
"reload" the full text of subscription-based resources through your My Library Account login.
Click on an ISSN, ISBN or DOI on any webpage to search our collections
Toolbar search box
Once installed, LibX Concordia will add a button in the top right of your browser window that expands into a search box for our Library Catalogue when you click on it: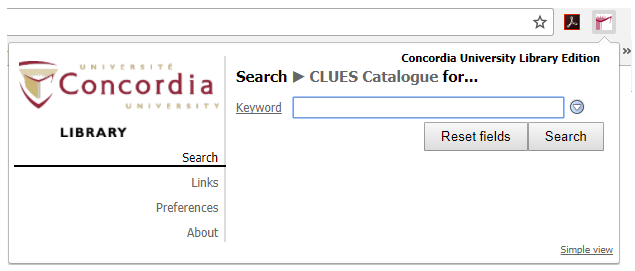 You can use the default Keyword option, or instead choose a Title, Author, Subject, ISBN or Call Number search:


Right-click to search the Library Catalogue and more
LibX Concordia allows you to use the right-click button to automatically launch a Library Catalogue or Google Scholar search on selected text from a web page. After highlighting the text you want and using the right-click button, you will get a menu like this: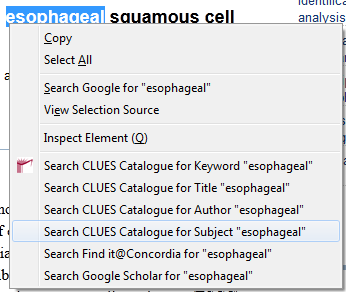 From here you can directly search the Library Catalogue or Google Scholar for the terms you have highlighted. To change which search options are shown here, go to LibX Preferences > Context Menu.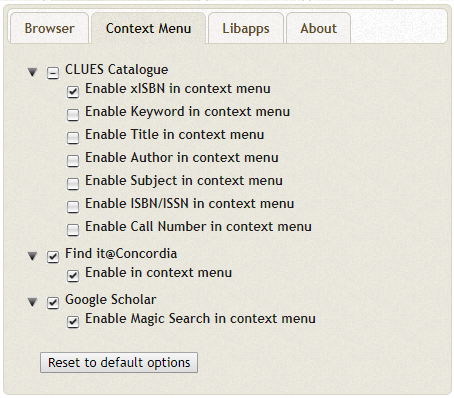 Right-click to Access Full Text via the My Library Account login
Note that if you use the Concordia VPN service to connect to resources from home you will not need to make use of this particular LibX Concordia feature.
If you are searching for online journal articles from home and arrive at a page that asks you for a username and password or an access fee, just right-click on the page and select "Reload page via Concordia Off-Campus Acccess":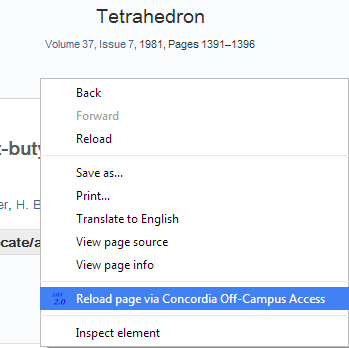 If the publisher is in our list of Concordia subscriptions, you will then be prompted, via the My Library Account login screen, for your netname and password. If Concordia subscribes to the journal in question, the page should then automatically reload with the full text of the article.
Or instead of reloading, you can invoke the off-campus My Library Account prompt directly from a results list. Just right-click on the link to the resource you want and select "Follow link via Concordia Off-Campus Acccess":

Links to Concordia resources
LibX recognizes certain standard document codes (ISBN, ISSN, and DOI [Digital Object Identifier]) and turns them into search links. Even if you are not certain what the codes mean, clicking on these embedded links will automatically launch a search for Concordia resources via the library catalogue (for books) or Findit@Concordia (for journal articles).

Troubleshooting & Help
For help with downloading see the Install LibX Concordia page.
If some options or functions do not seem to be working, try taking a look at the LibX Preferences.