Who can use the Library's 3D printers?
The Technology Sandbox has six 3D printers that are available for all Concordia students and staff. Access to the 3D printers is free and available during the Sandbox's opening hours.
Rules & guidelines
No previous printing experience required. No certification is needed
If it is your first time using our 3D printers, please ask for assistance. We always have staff available. Each printer has a different interface and different printing parameters.
One printer per project at a time. One printer per person.
We welcome all types of projects; they don't have to be course-related.
If you're in a class and have access to a lab with a 3D printer, we encourage you to use your course-specific tools.
We use the file format .stl. You need to slice the file in the Sandbox on our computers.
Printing must finish during open hours. Printers turn off when we close. The slicing software will give you an estimate of the total printing time.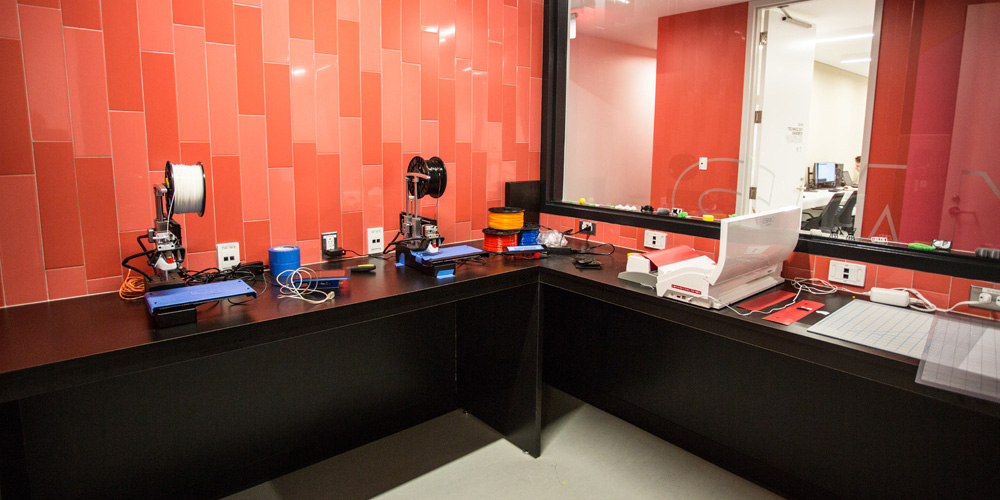 Frequently asked questions (FAQ)
Q: What kind of 3D printers do you have?
A: We have 3 Prusa (mark 2 and 3) and 3 PrintrBot Simple Metal. Two of them have been upgraded to have heated beds.
Q: I have no experience in 3d modeling. How do I get started?
A: You can find various models for 3D printing at www.thingiverse.com and www.tinkercad.com
Q: What materials do you use for printing?
A: We only print PLA plastic (provided).
Q: What is the process for 3D printing?
A: It varies, depending on the printer and the project, but in general 3D printing follows these steps:
Find the .stl file you want to print and export it.
Slice it for the corresponding printer.
Transfer it to the printer using a USB key or a SD card.
Change the filament if you want a specific color.
Start the print and watch the two first layers.
Leave and come back to pick up your print.
Q: What size of objects can I print?
A: Our larger printer has a maximum capacity of twenty cubic centimeters. Many prints approaching this size may not finish in the time we are open – please check the estimate generated by the slicing software.
Q: How can I choose the color of what I print?
A: The color is determined by the type of plastic you use. You will have a variety of colors to choose from, but the print can only be of one color. You can modify the finished print by sanding, painting or varnishing to create a variety of effects.
Q: What is an .stl file? How do I slice it? What does it mean?
A: You can always ask those questions to our support staff. There is always someone available to help. Please, feel free seek assistance!