Borrow with your Alumni card
Items may be borrowed in-person at both the Vanier Library and Webster Library with an Alumni ID card.
Most circulating material can be borrowed at the Loans or Circulation Desks or at a self-checkout machine.
Some material, such as journals and reference material, does not circulate.
Borrowed items can be renewed in your My Library account unless requested by another user; accumulated charges of $5.00 or more will result in the user being blocked from renewals until such charges are resolved.
Renewals are not accepted by email or telephone.
All loans are subject to immediate recall if needed for reserves, or after 14 days, i.e. the Library can ask the current borrower to return a Library item prior to the end of the initial loan period.
Loan periods will be reduced for items with multiple requests (holds) from other users.
---
My Library account
To log into your library account, use the information on your Alumni ID card to fill in the "Library Barcode Login" option. See the self-renewal FAQs for more information.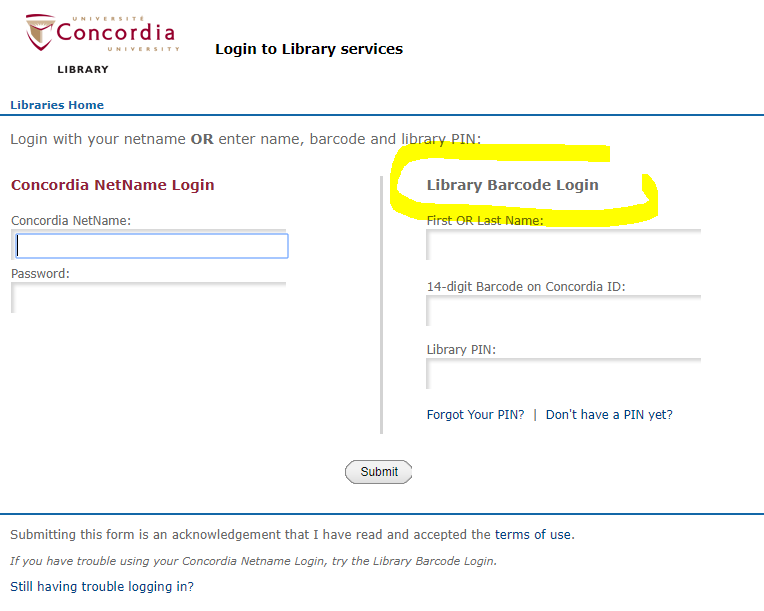 Returns & overdue items
Overdue items are subject to fines charged at $1 per day per item for most items. Library borrowing privileges are suspended if a fine of $5 has been incurred. Please note that non-receipt of an overdue notice does not release borrowers from their responsibility to return books on time.
You will receive email reminders when your items are due or when someone else has requested it. To verify which email address the Library is using, check your My Library account.
Borrowers may obtain information about their own circulation record at the Loans or Circulation Desk or online through My Library account.
---
Loan periods and number of items
| | |
| --- | --- |
| Loan period | 2 weeks (unless it is a high-demand item, in which case the period will be shorter) |
| Renewals | Unlimited renewals (if not requested by another user) |
| Borrowing limit | 5 items |
| Request for holds/intercampus delivery | Not available |
| Course-specific reserve material | Not available |
| Interlibrary loans | Not available |
| Laptop computer, tablet and charger loans | Not available |
| Technology Sandbox item loans | Not available |