Locations & hours
Library system-wide services: Special Collections
Grey Nuns Reading Room & Group Study Rooms
Sir George Williams Campus
Grey Nuns Building, A Wing (GN)
1190 Guy St.
Montreal, Quebec, Canada
514-848-2424 ext. 7197
Please note that the Grey Nuns Reading Room is closed from May 3 until October 9, 2023, inclusively. The location will reopen on October 10 at 9 a.m.
Fall 2023 Hours (September 5 – December 22)
Your Concordia ID card is required to access Grey Nuns.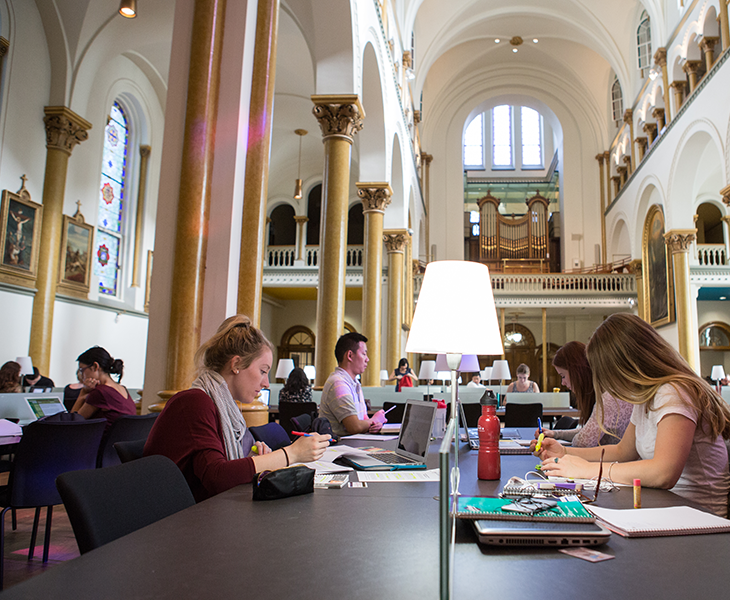 Interactive panorama
Floor plans
Just a five-minute walk from the Webster Library, the Grey Nuns Reading Room is situated in the beautiful former Grey Nuns chapel space located at 1190 Guy Street. The Reading Room is one of the Library's silent study spaces, so with the strict no-talking rule in place, it's an ideal spot to study for an exam, review notes for an upcoming class or write your thesis.
The Reading Room provides seating for 192 students, and additionally, there are 14 group study rooms on the first floor of the Grey Nuns building that can be reserved. Eleven of these group study rooms are equipped with digital collaboration technology including a 46" LCD screen with wired and wireless connections and a wide-angle USB camera. Read more about the group study room technology in the Grey Nuns building.
Please note that students must remove their footwear to protect the floors in the Reading Room.
---
Wheelchair access to the Grey Nuns Reading Room and Group Study Rooms
Please call Security at 514-848-3717 a few minutes before your anticipated arrival to have an agent meet you.
Proceed through the Grey Nuns building archway at 1190 Guy St. south of the Faubourg Building. Please use the intercom on the gate to communicate with Security. Inform them that you need to use the wheelchair entrance to enter the Grey Nuns library area.
To leave the Grey Nuns library area present yourself to the Reading Room Monitor who will communicate with Security to assist you to exit.