ORCID
What is ORCID?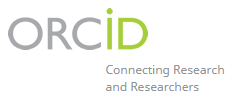 An ORCID ID is a persistent digital identifier that distinguishes you from every other researcher and, through integration in key research workflows such as manuscript and grant submission, supports automated linkages between you and your professional activities ensuring that your work is recognized.
What is ORCID? from ORCID on Vimeo.

Benefits of ORCID to the researcher
For the researcher, establishing an ORCID ID has the following benefits:
Allows researchers to distinguish their research activities from others with similar names and affiliations
Enables researchers to easily and uniquely associate a researcher's identity to a wide range of research activities and objects such as publications, datasets, equipment, articles, media stories, curated exhibits, citations, experiments, patents, teaching notes and notebooks
Empowers researchers to self‐manage their personal privacy whilst preserving the ability for their body of work to be publicly available.
Reduces manual data entry through automatic harvesting of associated activities and objects
Makes the research process and collaboration across borders, institutions and disciplines easier because it removes the need to enter data over and over again. The data associated with a researcher can "move" with their identifier across organizations and national boundaries
Facilitates researcher interaction with multiple organizations, publishers, funders through a common identifier
Provides records for individual scholars, improving discoverability of researchers and their associated research activities and objects

ORCID IDs in Spectrum Research Repository
Spectrum depositors are encouraged to include ORCID IDs along with their names when depositing to Spectrum: Concordia Unviersity Research Repository.
Adding ORCID IDs to author fields
The 16-digit ORCID IDs can be added along with the author name during the deposit process.

ORCID IDs are displayed consistently as links in Spectrum citations
An example of two citations in Spectrum where one of the authors has included their ORCID:


Publishers require ORCID
Major publishers such as American Chemical Society, IEEE, PLOS, Royal Society and many others have committed to requiring ORCID iDs in the publishing process and signed the Open Letter Requiring ORCID in Publication Workflows.
For the publishers, requiring ORCID for their authors has the following benefits:
Ensure authors are accurately identified and acknowledged
Facilitate disambiguation of authors across disciplines and affiliations
Simplify manuscript submission
Automatically update author's ORCID record with metadata on accepted manuscripts
Improve author search across publications and platforms
Facilitate the creation and maintenance of author and reviewer profiles

Institutional ORCID Membership
Membership of ORCID.org is now available to Canadian higher education institutions through the national ORCID-CA Consortium arrangement operated by the Canadian Research Knowledge Network. Concordia University has recently joined this consortium.
For research institutions supporting the work of their researchers, ORCID has the following benefits: 
Improves data quality for reporting research output for institutional management purposes. (As publishers increasingly adopt the use of ORCID, researchers at any stage of their career can link to as many publications and scholarly outputs as possible)
Enhances an institution's research profile through improved visibility and discoverability of research outputs and their research impacts
Has a time and cost benefit as it reduces manual data entry, minimizes double handling of data and makes it easier to maintain up‐to‐date records