Adad Hannah
A Selection of Works from the Video Series
Social Distancing Portraits
February 23 – May 31, 2021
Webster Library, Audio Stairwell
In the spring of 2020, artist Adad Hannah began his Social Distancing Portraits series in response to the COVID-19 pandemic. For this series, the artist took video portraits (from a distance) of strangers, friends, and family members in front of their homes, on the street, at work, or at public gatherings and demonstrations including those linked to the Black Lives Matter movement. Each subject held their pose for about thirty seconds, and was invited to share their thoughts with him at the time. In Hannah's very first video, Eva confided that "Today I studied at the library, I'm tired. I have a final exam. My uncle is taking care of me. I'm not worried."1
The Social Distancing Portraits evoke poignant moments of everyday life surrounded by a world in turmoil. Each video is complemented by an original piece of music composed either by Daniel Ingram or Brigitte Dajczer. To date, Hannah has created over two hundred portraits in the series – all of which appear on the artist's Instagram account.
Adad Hannah (adadhannah.com) holds a MFA, and a PhD from the Humanities Programme, at Concordia University. Daniel Ingram (facebook.com/dannyimusic) is an award-winning composer and songwriter. Brigitte Dajczer (www.brigittedajczer.com) is an award-winning composer and multi-instrumentalist, and has a MFA from Concordia University.
Further reading:
Harrison, Ian. "Artist Adad Hannah Movingly Records Life in the Age of Social Distancing." Concordia University, April 9, 2020.
1 "Eva." Instagram, uploaded March 14, 2020, instagram.com/adadhannah/
The Audio Stairwell is a place for temporary sound exhibitions in the Library which are offered to enrich student learning and to foster a welcoming environment to Concordia students, faculty, staff and the general public.

Visitors take notice of the innovative sound installation that plays through the built-in speakers as they ascend the principal Webster Library staircase. This acoustic environment features a blend of music and spoken words that facilitates the transition from the busy street level to the Library's study and research environments. A screen located at the top of the staircase displays information on the selected recordings, making the experience a pedagogical one as well.
In February 2017, the Audio Stairwell was inaugurated with the reopening of the Library's newly renovated second floor.
The content originates from the Library's audio collection or from external sources when selected by invited artists and selectors.
Browse past exhibitions by year
01/16 - 01/28: Les Ouvrières (2016) and La Reine (2017) by Paule Gilbert
01/29 - 02/28: Waves of Resistance
03/04 - 03/15: Stefan Christoff, Nick Schofield
01 - 03: Wiercinski
03/26 - 04/06: Sounding the City by Reimer and Stein
04 - 09: Wiercinski
10/9 - 10/22: "Walking With" Pohanna Pyne Feinberg
12/03 - 01/07: Clipping the Poetry Series - Selections from the Sir George Williams Poetry Series, 1965-1974
09 - 12: Christoff and Wiercinski
03 - 08: Nardone and Wiercinski
---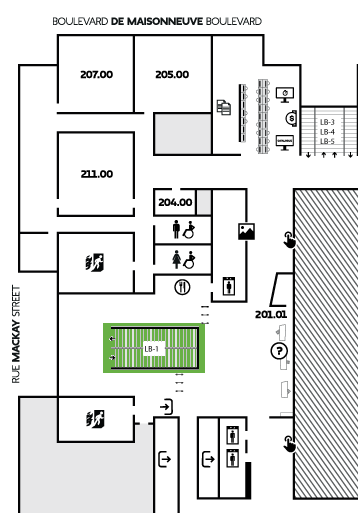 Location and contact information
Main Entrance to Webster Library
Sir George Williams (Downtown) Campus
Contact us
Library Exhibitions Committee
John Latour, Chair
Boi May Ang
Rachel Harris
Sarah Lake
Sandra Margolian
Alexandra Mills
Christine Smith
Updated: Wednesday 24 February 2021