University Librarian
A message from Dr. Beaudry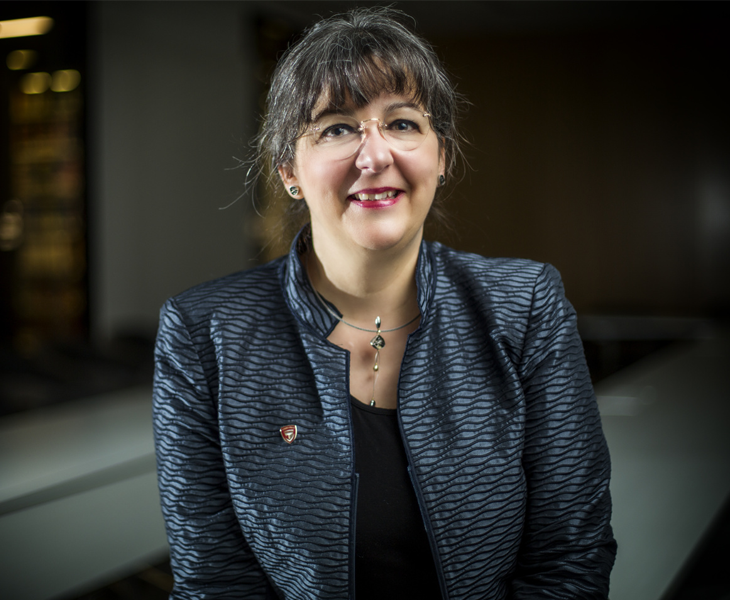 Guylaine Beaudry, University Librarian
© Concordia University, photo by Marc Bourcier
Dear Students,
The Concordia Library team welcomes all new and returning students and encourages you to make the Library an important partner in your academic success. The Library consists of the Webster and Vanier Libraries and I encourage you to visit these spaces and find your favourite spots for learning.
We have a team of dedicated librarians and staff ready to assist you with a variety of services, such as subject-specific research across our comprehensive print and digital collections, the use of our interlibrary loans services, or simply the borrowing a laptop or tablet. Whatever your needs or your inquiry, please feel free to ask us, either in person or through Live Chat with a Librarian. We are here to assist you!
You are also encouraged to visit the new Technology Sandbox where you can try out emerging technologies and cutting-edge equipment such as 3D printing, electronics or digital music. The Sandbox offers numerous workshops, among them, 3D Printing 101, 3D Modelling 101, Arduino 101, and Raspberry Pi 101, and analogue synthesizers. Try it out!
Course textbooks are located in the Course Reserves Rooms at the appropriate library. You can simply zero in on your course code on the shelf and check the books or course packs available there. Alternatively, you can log into the Course Reserves system to see a list of all courses you are currently enrolled in. Select the course you want and check if your professor posted any readings for that course. Both Course Reserves rooms at Webster and Vanier are opened 24/7. Upon request of the course instructor, the Library provides online access to course readings to all students enrolled in the class.
As always, I welcome your thoughts on how Concordia Library can continue to address and best serve your academic needs. Please do not hesitate to contact me at guylaine.beaudry@concordia.ca.
I wish you a most productive term and success in all your studies!
Sincerely,
Dr. Guylaine Beaudry
University Librarian
Concordia University
Updated: Wednesday 8 September 2021