Study spaces
On this page
No food please


Beverages are permitted if in spill-proof containers; however, food is allowed only in designated areas.
See also
Graduate study spaces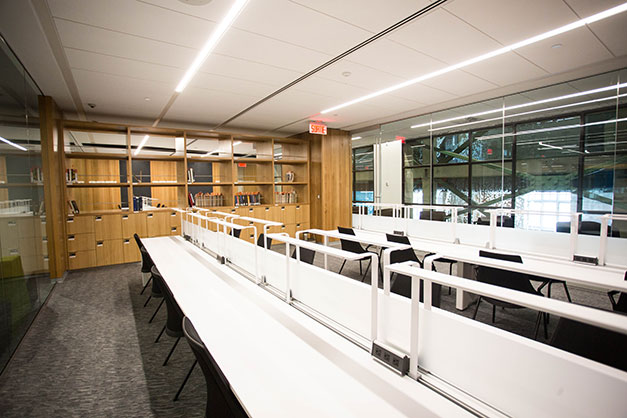 Areas specifically for graduate students are located on the 5th floor of the Webster Library (dissertation writers' rooms: LB-561 "Iceland", LB-562 "Venezuela", and LB-564 "Mali") and on the 3rd floor of the Vanier Library (VL-301-25).
Several lockers in Webster Library's Dissertation Writers' Rooms on LB5 (5th floor of the Library) will become available on October 2 at 9 am.

Requests for lockers can be made at the Webster Loans Desk, near the entrance to the Library, on October 2 and will be treated on a first come first served basis. More information about the lockers.
In the Webster Library, graduate students may access these areas by scanning their Concordia ID card. Students must go to the Webster Loans & Returns Desk during service hours to obtain a shelf and/or locker in the Webster graduate study space. Find out more about Webster Library's Dissertation Writers' Rooms.
In the Vanier Library, graduate students must present their Concordia ID card at the Circulation Desk during service hours, in order to receive the access code to the rooms, along with regulations for using the rooms. The access code is valid for an academic year and must not be shared with others.
Shelves in these rooms can be assigned to graduate students who want to leave library books for their research. These are assigned for an academic year, and expire on September 30. Any library books kept on the shelf must be checked out to the shelf at the Loans & Returns desk.
To ensure a quiet study environment for all users of the rooms, no group discussions are permitted in the enclosed areas.
In the Webster Library, food is permitted only in the kitchen beside the graduate students' lounge. In the Vanier Library, food is not permitted in graduate study rooms.
Graduate study rooms are accessible when the Library is open for study.