Rooms available for booking
Room configuration
The default configuration will be a lecture set-up in both the Multifunctional Room and the Library Classroom. Other configurations will generally not be available from September to November 2016 due to the anticipated heavy use of these rooms during this time, and multiple bookings the same day.
The desired configuration of the space must be indicated in the reservation request form at the time of the request. The Library will configure the space according to the requested configuration prior to the event, and will be responsible for reconfiguring the furniture to the standard configuration at the end of the event.
The lecture set-up in the Multifunctional Room accommodates 56 students, extra chairs in the room are available to comfortably seat a few more students at the tables. Safety regulations require that the maximum capacity of this room is 60 persons including the instructor. Under no circumstances should this room have more than 60 persons in it.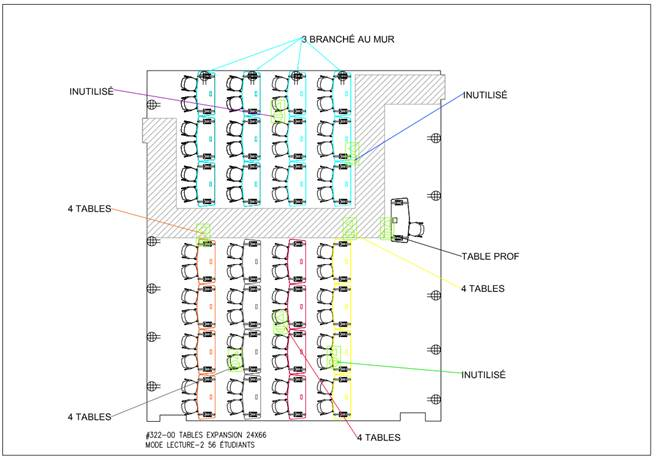 Outside of these months, for the Multifunctional Room, a request to reconfigure the space to either the workgroup pods of the debate styles (i.e., a configuration other than the default lecture style) requires notice of 10 business days. A request for one of the alternative configurations with less than 10 days' notice cannot be guaranteed. Confirmation of the configuration will be obtained by the Library Administrative Office and communicated to the requestor as soon as possible.
For any signage or wayfinding aids, we suggest contacting the Library Administrative Office to coordinate placement and removal of signage.